Your vehicle is a complicated machine, with a lot of moving bits and pieces that can go wrong at any moment. The best way to avoid costly or even potentially dangerous damage is by loyally adhering to your vehicle's recommended maintenance schedule.
For those of you who aren't sure where to begin when it comes to regular maintenance, don't panic. Our service experts at Randall Noe Used Cars have laid out the basics right here:
Have your engine checked regularly
Unless you're a trained automotive technician, it's easy to miss the little things under the hood of your vehicle. Bringing your ride into the shop and having it checked out by an expert set of eyes at least once every six months is a simple way to avoid hefty repairs.
Have your brakes checked regularly
Just as with your engine, you need to have your car's brakes looked over by a well-trained technician on a regular basis. If your vehicle is over five years old, get in the habit of scheduling it for regular tune-ups.
Change your oil religiously
Oil is a ride's best friend. Oil keeps your engine lubricated, cool, and running smoothly. Not only will it help you avoid major engine repairs, but keeping up with your regular oil change schedule will increase the overall lifespan of your vehicle.
Keep an eye on all fluid levels
There's more sloshing around inside your vehicle than gasoline and oil. Automotive fluids can include: windshield wiper fluid, coolant, brake fluid, transmission fluid, power steering fluid, radiator fluid, and air conditioning fluid. Especially in the devilish heat that can be found around our Texas towns of Fate, Forney, Mesquite, and Kaufman, keeping all your fluid levels high is a critical part of your regular maintenance routine.
When you see the signs, don't delay
If you feel your car shake, if the steering wheel is vibrating, if the brakes keep squeaking, if the engine grinds when you turn it on-don't put off taking your car into the shop. You never know what your car is trying to tell you about its health with those little sensations and sounds, so play it safe and schedule an appointment immediately.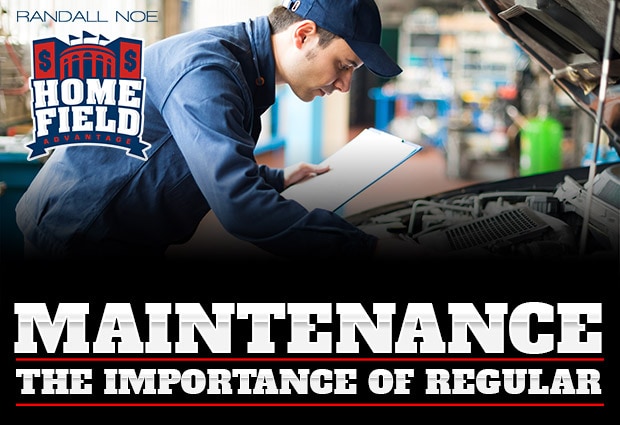 Regular maintenance is one of the hallmarks of good vehicle ownership. Make the process easier by letting us do our part and coming in to Randall Noe Used Cars for service on a biannual basis.